It is the purpose of the Western Pennsylvania Police Benevolent Foundation to provide assistance to injured police officers in need. This assistance may be in the form of information about available resources or monetary aid to help ease the financial burden in a time of crisis.


8th Annual WPPBF "A Night In Blue"
Saturday, February 23, 2019 – 6:00 PM - 11:00 PM
Valley Brook Country Club
425 Hidden Valley Rd, Canonsburg, PA 15317
Get Directions
Please join the WPPBF and our sponsors as we recognize the sacrifice of our officers. We honor and remember our fallen brothers and sisters, as well as officers that had serious or catastrophic injuries in the line of duty. Additionally, we recognize officers for specific acts of bravery and valor and also show our appreciation to the families of officers who sacrifice daily so that we all may serve our communities. The event is open to everyone — both law enforcement and non law enforcement. This is a great night for a deserving group of men and women who put thier lives on the line every day. Come out and join us for a night of fabulous food and fantastic company as we salute our bretheren officers from all over Western Pennsylvania.
Tickets are $80 individual / $150 couple and can be purchased by contacting any WPPBF executive board member.
Black tie optional.
For those looking for lodging the night of the event, the Hilton Garden Inn at Southpointe (1000 Corporate Drive, Cabonsburg, PA) is giving us a special rate of $95 per night, with breakfast. When you call or go to get the reservation, you must tell them you are with the WPPBF Night in Blue Policemen's Ball, and ask for our rate.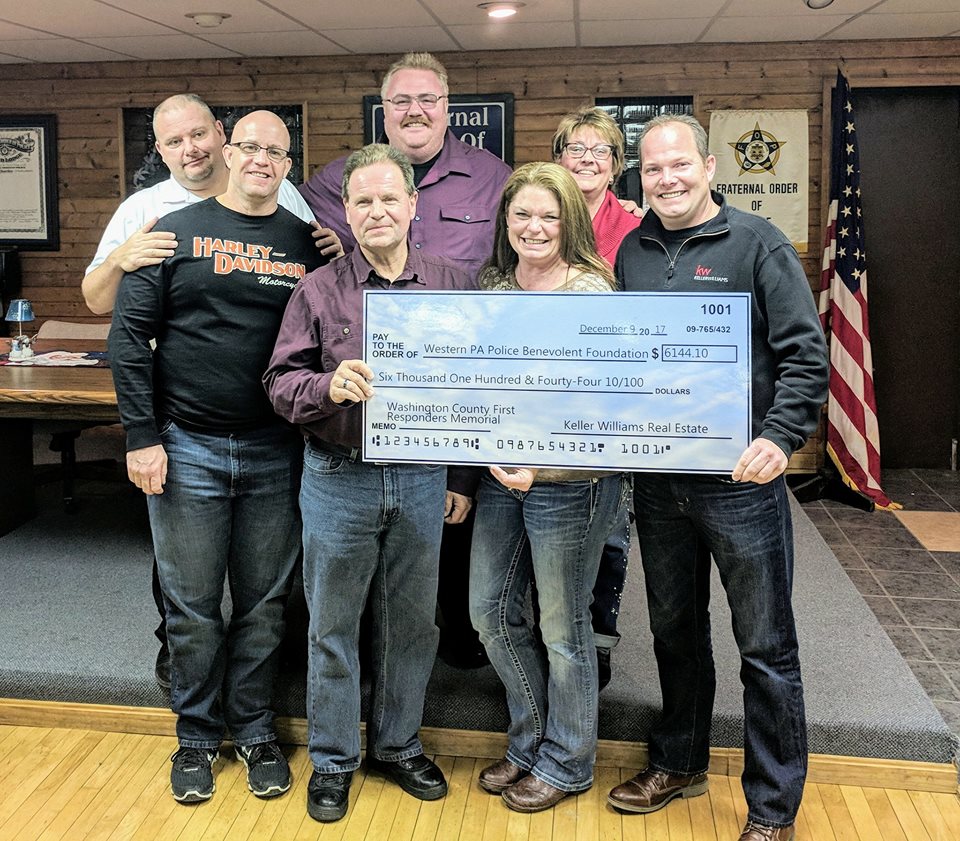 On December 9, at F.O.P. Lodge 22, Keller Williams, KW Cares and their partners — along with the WPPBF — presented a check that is dedicated towards building the Washington County First Responders Memorial. Thank you to KW Cares, F.O.P. Lodge 22 and our partners for working so hard to make this a reality.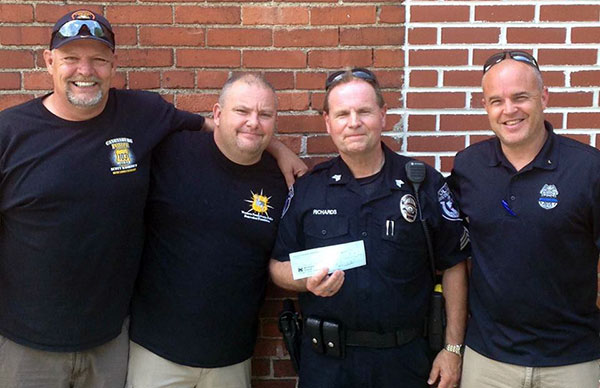 On April 30, 2017, the Western Pennsylvania Police Benevolent Foundation presented Mike Phillips, President of the Washington County Fraternal Order of Police and Sergeant Dave Richards of the North Strabane Police Department with a check for $1,000. The donation, presented by WPPBF President, Rich Griffith, and Treasurer, Tim Kreger, will be used for the creation of a Washington County First Responders Memorial to honor those from Washington County who gave their life in service to others.
Those wanting to donate to this project and help make it a reality can reach out to any WPPBF board member for information on whom to contact.