It is the purpose of the Western Pennsylvania Police Benevolent Foundation to provide assistance to injured police officers in need. This assistance may be in the form of information about available resources or monetary aid to help ease the financial burden in a time of crisis.

On behalf of the foundation executive board and membership we extend our deepest condolences to the Provins family and to the Jefferson Hills Police Department on the passing of Officer Dale Provins.

A 15-year veteran of the Jefferson Hills Police Department, Officer Provins passed away June 13, 2020 from extensive injuries he received during an on-duty traffic collision that occurred on June 3.

We ask that you take a moment to pray for Dale, his family and loved ones, the Jefferson Hills Police Department, and all those who knew and loved him. Dale will be missed by his brothers and sisters in blue throughout the South Hills area and beyond.

Funeral arrangements for Officer Provins will be shared once made public.

On behalf of the WPPBF Executive Board and members, we ask for your prayers for the Allegheny County Sheriff's Office and the family of Deputy James "Jimmy" Hensell. Jimmy's EOW was 5/17/20.

For those who wish to help us in remembering our brother Jim, donations are being accepted to help support his wife and children.

Make checks payable to: WPPBF
Include in the memo: Hensell Fund
Mail to: WPPBF
P.O. Box 382
Meadowlands, PA 15347

The WPPBF is proud to partner with an amazing lady, Cyd West, owner of Cyd West Comfort Catering, who has been working tirelessly to provide hot prepared foods for shut-ins and others who don't have access or the means to get the meals by themselves during the Covid-19 crisis. Cyd has also made meals for students who would be receiving supplemental meals through school, but due to schools closures, aren't getting them.

A generous donation on behalf of the WPPBF and our members has made this service available for a week to help those in need. Lunches are being distributed at the Library Volunteer Fire Company, from 10:00 am to 12:30 pm.

Anyone wishing to help Cyd with her mission can contact Drew Volchko directly at 412-877-6522 or Tim Kreger at tkreger@wppbf.org for info on how to donate and help Cyd and her volunteers.

Remember, no one in this family fights alone. We hope you'll join the WPPBF in our efforts to help and support those in need during this critical time.

Go Fund Me Fundraiser
Benefiting Detective John Henson of the Pittsburgh Bureau of Police

The WPPBF asks that you join us in showing support for Detective John Henson of the Pittsburgh Bureau of Police who was recently diagnosed with Lymphoma. John has been a Pittsburgh Police Officer for more than 15 years. During this time, he has selflessly served the city as a Patrol Officer, Narcotics Detective and SWAT Operator.

Detective Henson and his family need help as they navigate this tough time. A Go Fund Me page to help the Heson family has been set up by fellow officer Andrew Miller. Please consider donating and showing your support for this fellow officer in need.

To make a donation, visit https://www.gofundme.com/f/1wmmhlufdc.

The sudden loss of Ron "Mac" McIntyre has deeply impacted his wife Heidi and their two children. Ronald McIntyre was a City of Washington Police Officer that was severely injured rescuing residents from the George Washington Hotel fire in 2006. He would never return to City of Washington as a Police Officer. He received a medical pension in 2010 and was hired as the City of Washington Code Enforcement Officer that same year. Ronald McIntyre died unexpectedly Sunday, January 12, 2020. The family has had an overwhelming number of people wanting to help in this very difficult time.

If you would like to help the family of Ron McIntyre, you can send a donation to the Western Pennsylvania Police Benevolent Foundation.

Make checks payable to: WPPBF
Include in the memo: McIntyre Fund
Mail to: WPPBF
P.O. Box 382
Meadowlands, PA 15347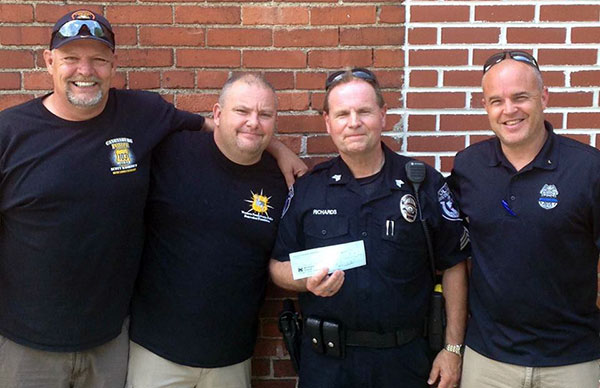 On April 30, 2017, the Western Pennsylvania Police Benevolent Foundation presented Mike Phillips, President of the Washington County Fraternal Order of Police and Sergeant Dave Richards of the North Strabane Police Department with a check for $1,000. The donation, presented by WPPBF President, Rich Griffith, and Treasurer, Tim Kreger, will be used for the creation of a Washington County First Responders Memorial to honor those from Washington County who gave their life in service to others.
Those wanting to donate to this project and help make it a reality can reach out to any WPPBF board member for information on whom to contact.